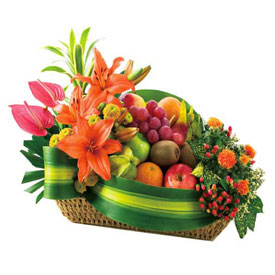 Description
On this special occasion, choose this gift that will activate every sense with the shining colors of the most select flowers, the flavor of the most delicious seasonal fruits, and an amazing decoration that will give everyone a surprise.
Basket with seasonal fruits and arrangement of Lilies, mini Carnations, Anthuriums or other exclusive exotic flower, and Dracaena leaves.
Approximately 40 x 35 cm.
THIS PRODUCT MUST BE ORDERED AT LEAST ONE WORKING DAY IN ADVANCE.